Confession + {Honey Bourbon Butternut Squash Soup}
Posted: October 7, 2013
Confession: I buy cubed butternut squash. I don't care if it's 250% more expensive. Have you ever tried to cut a butternut squash? If you haven't, you'll only do it once. Then you'll buy pre-cubed. :) It really is a risk versus reward thing for me. The risk of cutting one (or more) of my fingers off is pretty high. So thank you to whoever cut and cubed my butternut squash. My hands are forever thankful. Anyways, I had a pound of butternut squash in my fridge, originally intended to turn into Butternut Squash Mac & Cheese.  But I decided a fall (or autumn, as I prefer to call it) soup would be more fun.
Introducing Honey Bourbon Butternut Squash Soup:
Full of butternut squash, carrots, sweet potato, apples, and onion, this soup really is a nourishing powerhouse.  It is good on its own, but the honey and bourbon take it to the next level of amazingness.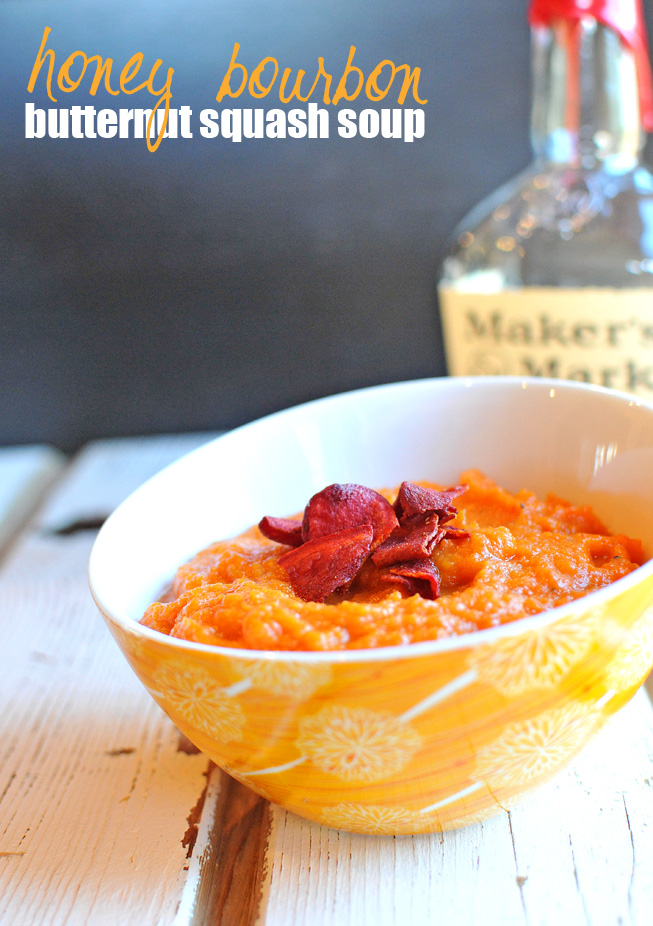 Top with beet chips, or serve with provolone toast for dipping. #comfortfood
Question:
Do you buy pre-cubed butternut squash?
Honey Bourbon Butternut Squash Soup
Description
Honey Bourbon Butternut Squash Soup
Ingredients
1 pound
Butternut Squash (cubed)
32 ounces
Chicken broth (or sub vegetable broth)
1⁄2 tablespoon
Montreal Chicken Seasoning
1⁄8 cup
Bourbon (I used Maker's Mark -- optional)
1⁄8 cup
Apple Cider Vinegar (optional)
Instructions
Chop carrots, butternut squash, and sweet potato into one inch chunks.
Dice apple and onion.
Combine everything in a large stockpot over medium high heat, except for bourbon, honey, and apple cider vinegar.
Cover, and let simmer for 1 hour, stirring occasionally.
Use an immersion stick blender to puree the soup.
Optional: add in bourbon, honey, and apple cider vinegar.
Enjoy!
Yields 4 Servings
You might also like...