105 Pounds Ago -- Theresa's Success Story #inspiration
Posted: October 20, 2013
Just about a week ago, I posted this pic ---------------->  on Facebook. It's true... I want to inspire people. I want to inspire my daughter.  I want to inspire the middle school girls that I teach. I want people to live a better life because of something I said or did to encourage them. Well, one of my blog readers, Theresa, reached out to me that day and told me that that is her dream as well...but she felt she didn't have an outlet. I asked her to write up her story to share and inspire you...and I'm soooooooo glad she said "yes!!"
Meet Theresa:
Hello everyone! I'd like to start off by introducing myself.  My name is Theresa, and 7 ½ years ago I weighed in at 240 lbs. (at only 5'4").  Today I am EXTREMELY PROUD to say I weigh in at only 135 lbs.! I did it all the "old fashioned way" with healthy eating and lots of hard work at the gym.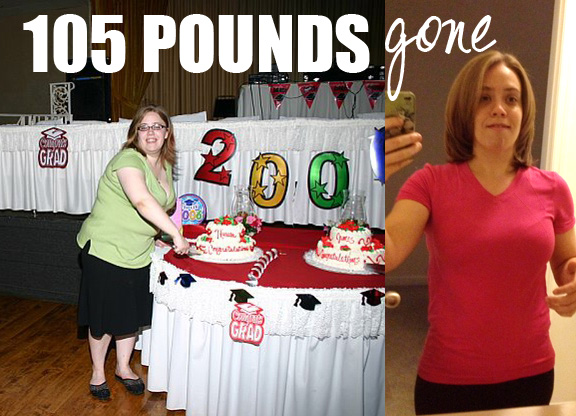 It all started on a rainy Friday afternoon.  It was October 14, 2005, a day I will painfully never forget.  That afternoon at just 46 years of age, my father passed away from a heart attack.  This was the hardest time in my life, and I turned to emotional eating for comfort.  I ate LOTS, and I mean LOTS, and over the six months following I managed to pack on 60 lbs.  This took me to my dreadful top weight of 240 lbs.  It is weird how one major life changing event can be both the cause of the weight gain, and then your reason/motivation for your weight loss.  I remember it was May 2006 when I went to the doctor and got on the scale to get the jaw dropping results! My first thought was "how did I get here???" and my next thought was "this HAS to change!!!"
That's how my weight loss journey began.  The tragic loss of my father, him leaving this world far too young, was all the motivation I needed.  I didn't want that to be me, so I began by seriously changing my eating habits.  I did this slowly, cutting out the obvious things at first (cake, ice cream, candy…I have a giant sweet tooth!) and reading all I could about health, fitness, and nutrition.  This was no easy task as it was very hard to completely cut out some of my favorite foods like ice cream, Oreos, and Pizza Hut.  Another thing I struggled with cutting out was alcohol.  I like to have a few drinks on occasion, but I know how bad alcohol is for you and your metabolism.  I do my best to try and avoid empty calories, and I limit my drinking, but I still do indulge on occasion with a few beers or cocktails.  Margaritas are my favorite, but now I make them "skinny style" at home with fresh or frozen fruit, and light margarita mix.

In the beginning I only worked out at home because I was just too embarrassed to go to the gym and exercise in public.  Doing my at-home workouts and sticking to my healthy eating plan, I dropped the first 60 lbs. pretty quickly.  I got down to 180, where I stayed for quite a while.  Once I stopped seeing weekly results I started to struggle a lot with keeping myself motivated to work out at home. That's when I made the decision to start a gym membership.  Once I hit the gym the weight started coming off again, slowly now, but steadily.  As I started seeing additional results, my motivation continued to grow.  It was a long journey but by the fall of 2011 I had gotten myself down to 150 lbs., a 90 lb. weight loss. Again this is when my life would again change forever, but this time in the best way!!!

It was October 12, 2011, a Wednesday evening when I had my first date with my boyfriend (and love of my life) Ron.  He too, prior to meeting me had lost 100+ lbs.  I thought us finding each other was truly amazing!  I found his eating plan to be much stricter than mine, and he was a runner.  I had dabbled in running before I met Ron, and did one 5K by myself before meeting him but I walked a good deal of it.  So I was far from a runner!  He had done the Broad Street Run, a very popular 10 miler here in Philadelphia.  I was very intimidated!  I remember it wasn't long after we met that we first went to the gym together.  I had never been so nervous for a workout ever in my life!!! Normally I don't care what I look like going to the gym, but on this evening I was fixing my hair and even wore a touch of make-up (just some powder on my face to help keep away the shine from sweating).  I had a really awesome run because him being on the treadmill next to me was good motivation.  Afterwards I told him how nervous I was and he said to me "You looked beautiful even when you were all sweaty." It was at that moment when I knew I was totally and completely his. 

As we started dating, Ron really helped motivate me to change my eating habits even more than I had.  He also motivated and pushed me to start running!  In the 2 years we have been dating we have done a 10K run (where he didn't leave me side, even though he could have blown past me!), and we did the 10 mile Broad Street run together this past May.  I am so thankful for Ron, his motivation and his faith in my abilities, and always pushing me to do better!  I would be completely lost without him! Since I met Ron, he has helped me lose the last 15 lbs, taking me down to 135.  In addition to helping motivate my workouts, Ron helped restore my LOVE for cooking!  I have very fond memories of cooking as a kid with both my Grandmom and Mom.  I lost the passion for cooking for quite some time, but both Ron and finding great skinny recipes from various bloggers like Nosh and Nourish really helped reignite my love for cooking.  I could spend days in the kitchen, and it would be paradise to me!  It is great to have a support system, someone or a few people you can go to for motivation.  Ron started out as my motivator, but now be continue each day to motivate and inspire each other to be the best we can be! It feels amazing to be able to return the favor and give that motivation and inspiration back to the one person who truly believes in you. 

Here are a few tips that helped me shed the weight:
Slow and steady wins the race! Weight loss doesn't happen overnight.  You need to be patient and put the time and effort into your weight loss for the best results and best chances for keeping it off. 
Eat smaller portions more frequently throughout the day. I have gotten out of this habit on a daily basis, but for a good portion of my journey I was eating 5-6 small meals a day.
There is no such thing as a diet.  This isn't temporary.  It is a complete lifestyle change that is needed to take the weight off and most importantly keep it off. 
Cook as many of your meals as you can, but when you do dine out make smarter choices.  Always choose fish or chicken over fattier choices like beef or pork.  Choose veggies or a salad in place of fries or potatoes.  Choose broth based soups over cream based soups. 
Keep a positive outlook! Instead of looking at the things you are "giving up", think of all you will be gaining with a new, healthier way of life!
Eating habits and exercise go hand-in-hand.  You will not have continued success unless you eat well AND exercise frequently. 
Drink lots and lots of water!!! Staying hydrated is very important. 
When in the gym (or at home) and you are going through a tough workout always remember "Pain is temporary, quitting is permanent."  Also remember when you don't want to work out, that's when you need it the most!
Don't make yourself feel deprived of your favorite foods.  Find alternative recipes for some of your favorite "bad" foods.  I have found there is a healthy alternative for most things! (One healthy tip – when baking always substitute butter and/or oil for applesauce or even pumpkin puree). 
Your brain plays a big part in your weight loss.  If you tell yourself "I can't" then you won't.  Always tell yourself you can do it, and that will take you far!
Set small goals and large goals.  If you just set one large goal, it will seem like it takes a long time to achieve it, and then you will be more likely to get frustrated and give up.  You can set weekly or even daily small goals, like "I will not eat any cookies today" or "I will run a mile today." "Don't wait until you reach your goal to be proud of yourself. Be proud of each step you take toward reaching that goal."

I am not going to lie.
I have had my share of ups and downs through my weight loss journey. None of this was easy, and I still struggle every day! I feel like a recovering food addict, and am careful each day not to "fall off of the wagon". I no longer indulge in unhealthy treats thanks to my love Ron for the inspiration to give that completely up!!!  Instead I have found many delicious recipes for healthy treats (like Nosh and Nourish chocolate chip cookies, yummers!). I am getting better, but I struggle with my self-confidence.  In many ways I still see myself as overweight, and mentally battle myself a lot.  I feel guilty if I think I've eaten too much in a day, or feel guilty for skipping a workout.  When I get down on myself I try to remember how far I have come, and how amazing I feel!  I don't even feel like the same person!  I have so much energy, and feel more alive than I ever have before!  My journey has been amazing.  I have learned so much about myself, and about who I want to be. 
My journey isn't over, and I continue down my path each and every day loving the person I have become. "Motivation is what gets you started.  Habit is what keeps you going."
--------------------------------------------------------------------------------------------------------------------------------------------
Question:
Did you find Theresa's story encouraging? Let her know in the comments below!!!!!!!!
You might also like...